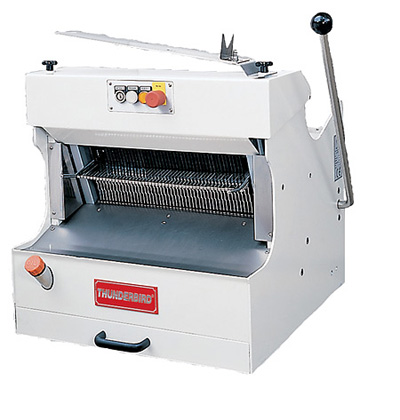 Bread Slicer ARM-608
Design:
Powerful German style bread slicer designed for hard bread, French bread, with an oil lubrication system and bread pusher.
Features:
Cuts up to 300 Loaves per hr. (Thus depending on Loaf size and type)

Engineered to slice hard crusted bread

Made with a bread pusher, which pushes bread through moving blades.

Oil lubrication system available at extra cost.
*Slice thickness is not adjustable, therefore please order your machine with 5/8" or 1/2" slice thickness.
Specifications:
Motor:

1HP

Electrical:

115V or 220V
1400W
Single Phase
60HZ

Dimensions:

30"x26"x48"

Weight:

305lbs + 25lbs (shipweight)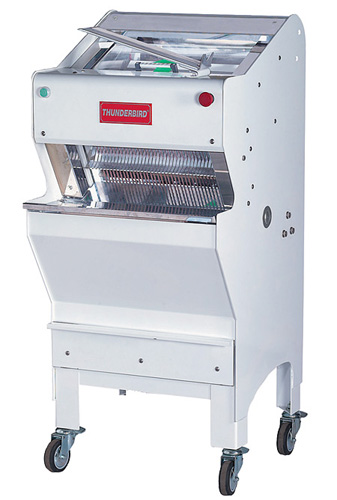 Bread Slicer TBS-618
The TBS-618 floor model, automatic bread slicer has been designed and built with the highest technology in order to meet high safety requirements. The cutting operation is inside the clear safety compartment and automatically operated.When the machine is in operation, the safety cover will lock automatically until the cutting process has completed. It is equipped with four wheels for mobility. The TBS-618 slices 400-600 loaves of bread per hour. This machine is ideal for both hard and soft crusted breads.
Features:
Comes with four wheels for mobility

Fully automatic

Cuts up to 400-600 Loaves per hr. (Thus depending on Loaf size and type)

Engineered to slice both soft and hard crusted breads.

Effective operation for bakery and pastry shops

Various slice thicknesses
Specs:
Motor:

3/4HP

Electrical:

115V or 220V
50Hz or 60Hz
Single Phase

Blades:

38 blades

Slice Thickness:

1/2 inches. (other slices available)

Dimensions:

695mm(L) x 610mm(W) x 1350mm(H)
27.36"(L) x 24.02"(W) x 53.15"(H)

Weight:

Net: 165Kg, Gross: 200Kg
Net: 363lbs, Gross: 440lbs